Softsound
Softsound is the unique ecological soundproofing panel made using only natural mineral components. This special product is capable of ensuring excellent sound absorption and cancellation of any plaster/tile stresses. It acts as expansion joint, thus reducing the risk of coating rupture due to the thermal expansion of the floor and reduces footstep noise by up to 75% in all underlying areas.
Use
Renovation, new building construction, exteriors.
Benefits and Applications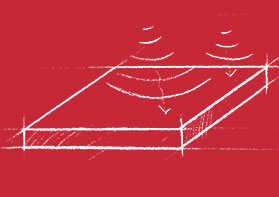 Some examples of this product's performance
• Optimally reduces footstep sound up to 16 dB (to DIN 52 210 standard)
• Has ideal stress compensation characteristics for safe decoupling
• Provides for easy installation since it can be cut using common cutters
• Features a thickness of only 4 mm, which makes it more practical to handle during placement
• Completely non-toxic and odorless
• Disposable together with normal solid city waste.
The SoftSound footstep noise absorption and decoupling lagging ensures:
• Easy and dust-free cutting using a simple general purpose cutter.
• Fast gluing to a level slab using common tile binding mortar.
• Direct gluing of ceramic cladding using binding mortar without requiring the application of reinforcement netting (resistance-welded netting).
• Joints can be sealed using paper tape or brush-applied liquid acrylic glue.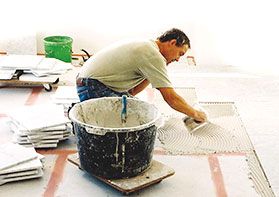 The use of the SoftSound footstep noise absorption and decoupling panels is especially recommended for use with the following substrates:
Substrate types:
• Critical mixed substrates
• Floor radiation heating systems (with hot water or wiring)
• Old ceramic-based substrates
• Continuous flooring prone to cracking
• Wood substrates
• Concrete, steel or wood stairs
Examples of installation
On rough and unlevelled substrates (such as concrete screeds, for example) lay on the entire surface with flexible tile glue. On flat substrates (puttied surfaces or dry construction materials, for example) apply acrylic or polyurethane-based adhesive and glues prior to panel placement.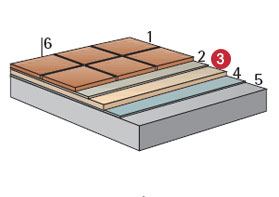 Tile and/or natural stone coating on mixed levelled substrates
1 - Tile or natural stone coating
2 - Binding mortar
3 - SoftSound lagging
4 - Binding mortar
5 - Levelled slab
6 - Flexible joint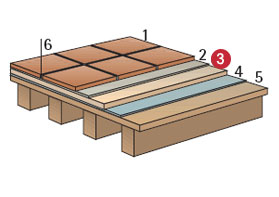 Floor heating system with tile and/or natural stone coating
1 - Tile or natural stone coating
2 - Binding mortar
3 - SoftSound lagging
4 - Binding mortar
5 - Levelled slab
6 - Flexible joint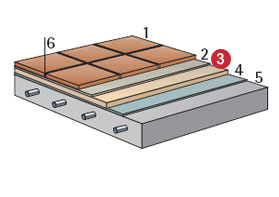 New tiles placed over previous old tiles, redevelopment without removing previous tiling
1 - Tile or natural stone coating
2 - Binding mortar
3 - SoftSound lagging
4 - Binding mortar
5 - Old tiles
6 - Flexible joint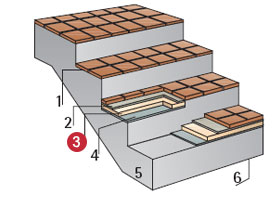 Tiles and/or natural stone on wood flooring


1 - Tile or natural stone coating
2 - Binding mortar
3 - SoftSound lagging
4 - BUndercoat or sealer
5 - Levelled slab<
6 - Flexible joint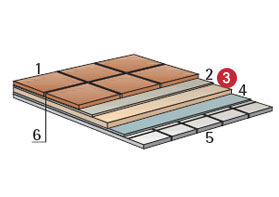 Tiles on concrete, steel or wood stairs
1 - Tile or natural stone coating
2 - Binding mortar
3 - SoftSound lagging
4 - Binding mortar
5 - Wood floors
6 - Flexible joint